PETDURO Dog Bowl Slow Feeder Maze Puzzle Food Bowls for Fast Eaters of All Sizes
Why could you trust and choose this PETDURO slow feeder dog bowls?
Designed by our experienced product designer who is also professional pet lovers.
Proved by thousands of customers that it can effectively help dogs slow down eating.
It's larger, sturdier and more durable than most competitors on marketplace.
Special-designed and beautiful roads of reasonable width slow down eating effectively.
It's easy to clean so that you can make it look like new every time after you washing it by hand or dishwasher.
Unlike other Cheap Soft Plastic dog bowls, ours is made of Hard Thick heavy duty polished plastic which looks similar to ceramic.
Unlike other Cheap slow feeders whose base rubbers are easily to fall out, ours are firmly and deeply inserted into the holes and hard to be pulled out, so they're more heavy-duty and effective to stay in place.
Unlike other Cheap Soft Slow Feeder Dog Bowls that can be easily bitten and chewed up by large breed dogs, ours are so hard, sturdy and firmly-built that they won't be chewed up by your buddy dogs.

Solid & Sturdy Dog Bowl To Slow Down Eating: Unlike other soft plastic dog bowls, ours are made of hard and beautifully polished plastic that's so thick and strong as not easy to be broken.

Unique Design Dog Slow Feeder Bowl: These dog bowls are uniquely designed with special roads in the bowls that can slow down eating for dogs puppies.

Higher Capacity Large Dog Bowls: 9.75 in (Diameter) & 2.25 in (Height), hold up to 14 oz dry dog food, bigger than most competitors on the marketplaces.

Easy-to-Clean Dog Food Puzzle Feeder: Smooth & non-stick surface makes it very easy to wash by hand or dishwasher.

Non-slip Maze Dog Bowl: Unlike other dog slow feeder bowl whose rubbers are very easy to fall out and missing, our 4 rubbers are kept in the bowl base tightly which are hard to be pulled out and so keeps the bowl remain in place.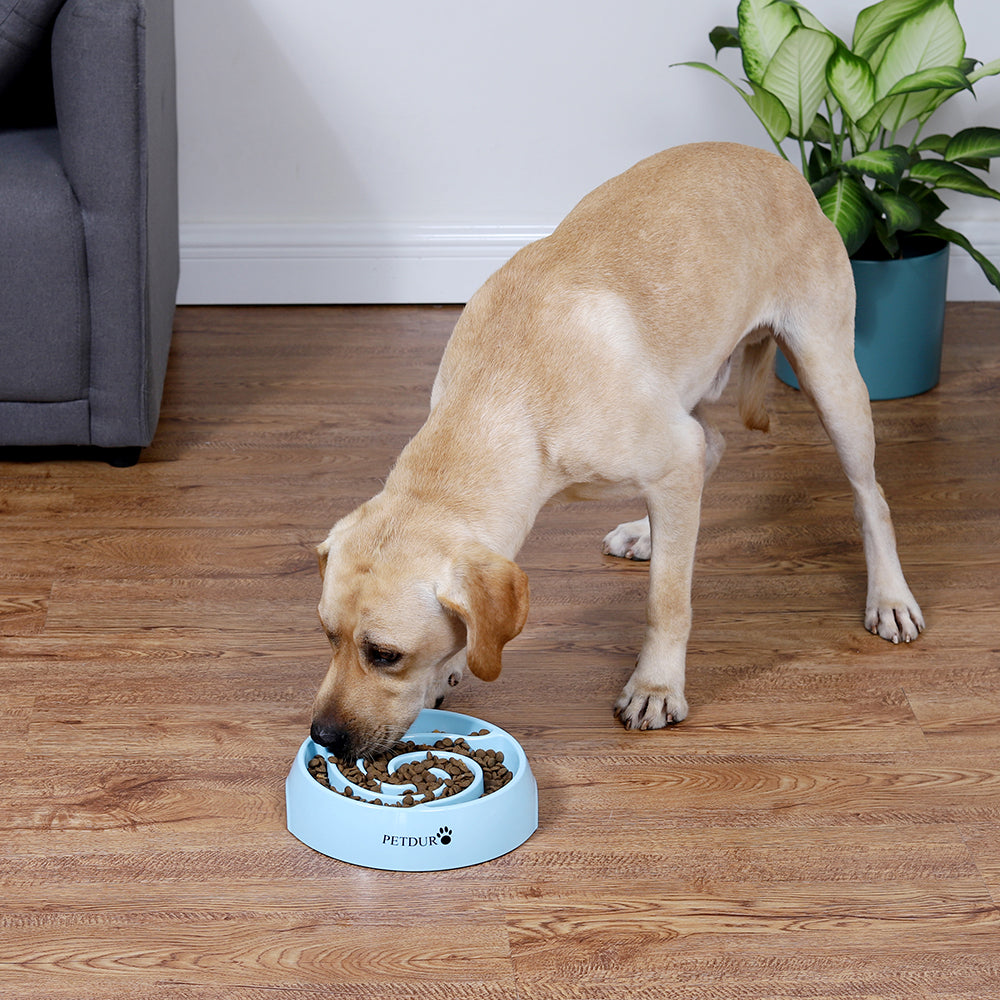 Highly recommend it!
Very nice, heavy and durable. Arrived earlier than expected!!
Perfect for super fast eaters!
I purchased this for my German Shepherd. I am so glad I did.With this bowl it has slowed down his eating time to almost 3 minutes. He isnt able to pick it up and throw it and it doesnt slide around in his crate which is also a plus. I would highly recommend this bowl!
Works well for my Mastiff scarfer
I bought this bowl on the advice of my Vet Tech sister because my dog started scarfing his food after he started having seizures. The bowl is sturdy and stays in place as my mastiff tries to get every last bite (it has skid proof rubber on the bottom in 4 places) It has caused him to eat slower.
Slowed my puppy down in first use!
Please, if you have a puppy/dog that gulps their food, buy this bowl. It stopped my puppy from gulping and throwing up in one time use. I love love love this bowl. Plus it's humerous to watch my 6 month old puppy eat now. Great purchase!
---
Customers Also Like